Upcoming Performances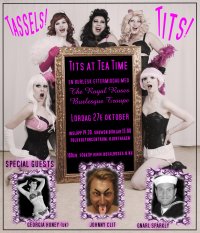 Past Performances
17th of July 2015, The Great Gatsby, Kostergården, Koster, Sweden.
2nd of August 2014, Way Out West: Vaudeville Grotesque Burlesque, Copenhagen, Denmark.

18th of July 2014, Burlesko, Hotel Koster, Koster, Sweden. 

6th of October 2013, 3rd International Stockholm Burlesque Festival, Eriksbergsgatan 8B (at Burleskloppis), Stockholm, Sweden.
17th of July 2013, Burlesko, at Hotell Ekenäs, Koster, Sweden.

10th of May 2013, Sexdagarna, Uppsala, Sweden.

4th of May 2013, SEXparty, På G, Stortorget, Falkenberg, Sweden.

15th of March 2013

, Munich Burlesque Festival, International Burlesque Contest, Munich, Germany.
10th of November 2012, Club Teaserama, Södertälje, Sweden.
27th of October 2012, TITS AT TEA TIME, Folkkulturcentrum, Hjorthagen, Stockholm, Sweden. Our own show! :) 
1st of September 2012, Burleskapader at Kägelbanan, Södra Teatern, Stockholm, Sweden
21st of July 2012, private party, Östersund, Sweden.
13th of July 2012, Burlesko at Hotell Ekenäs, Koster, Sweden.
Burlesque + Roller Derby = ♥
The Royal Roses supported The Royal Swedish Roller Derby! A match made in heaven! 
31st of March 2012, Kafé 44, Stockholm, Sweden.